Queen Rania of Jordan has said: "The best advertisement for empowering women is an empowered woman ... I am moved by the image of a reverse domino effect in women's empowerment. Instead of falling because of being pushed down, every woman lifts another up and passes the gift of strength on. In this way success breeds success".
Source: Gulf News, November 19th, 2010, "Emirati women choose to get a good education"
THE ONE Jordan has donated JD15,000 to Madrasati in an effort to renovate the Kingdom's public schools, making them 'safer, brighter, better equipped and more inspiring learning environments'.

Led by Queen Rania Al Abdullah and in collaboration with the Ministry of Education, Madrasati is a student-focused initiative that aims to provide quality learning establishments and enhance opportunities for children in Jordan and the Arab world, while employing the principles of partnership, cost-sharing, community ownership and volunteerism.

According to the Madrasati website, approximately 15% of Jordan's 3,257 public schools are rundown. This is one statistic THE One Jordan family - working in partnership with Madrasati - is determined to help change with their JD15,000 donation, which has resulted in the international home fashion brand adopting the Salma Bint Amees Primary School in Jabal Al Jofeh.

The money will go towards renovating the school's facilities and infrastructure, as well as implementing programmes that ensure a safe and healthy learning environment for the 240 students, including children with special needs.

Renovation work is already underway and is expected to be completed before the start of the new academic year.

An enthusiastic General Manager, Dalia Nejem, commented on adopting the school: "THE One Jordan is extremely excited about this project because it's an excellent opportunity to involve our tribe and a great source of motivation. It's wonderful to be contributing to the community and being able to make a real difference in our children's futures.''

Madrasati aims to bring together the public and private sectors as well as non-profit partners to rejuvenate 500 public schools all over Jordan.

Salma Bint Amees Primary School Principal, Najah Al Eteiwi, expressed her gratitude that such a programme had been launched in the Kingdom: "We are thankful for the donation and support of THE One and Madrasati. We are very pleased to see that people care about the community and realise the importance of creating a safe and healthy learning environment for our children.''

The raring to go 'Onederworkers' have already visited Salma Bint Amees Primary to discuss the school's needs and how THE One can further contribute - be it through volunteering their time by teaching English classes or by organising fun activities with the students and their parents.
Source: Gulf News, July 21st, 2008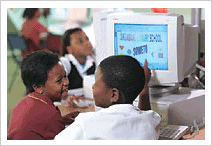 Jordan has been announced as the pilot nation for the implementation of an ambitious project for the delivery of effective e-learning to its citizens.

The Jordan Education Initiative brings together leaders from the IT and Telecoms industries with Jordanian authorities to create the project that will improve education in the Kingdom.

By implementing such a model, the government of Jordan, together with World Economic Forum member companies and organizations, will provide Jordanian youth with a nurturing and supportive environment that enables each child to pursue his/her purpose through a conscious process of self-discovery, experiential learning and self-determination.

Ninety-six so-called "Discovery Schools" have been selected to pilot the scheme in Jordan. They will serve as a test bed of how ICT can enable new systems to be used and benefit schools and their pupils. Though focused on the advancement of learning in Jordan, the plan also provides the opportunity for the sustained development of the local information technology industry through infrastructure and e-content development activity.

Source: World Economic Forum